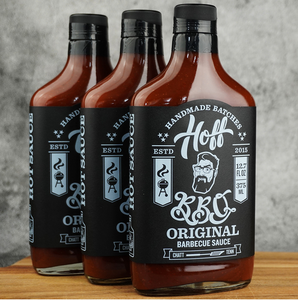 Hoff's Molasses based BBQ sauce is handmade in Tennessee
Perfect on beef brisket, pork ribs, and sweet potato fries.
NO high fructose corn syrup and naturally vegan and gluten free
Made in small batches with a touch of our award winning Hoff Sauce
Hoff & Pepper is a Chattanooga based company specializing in gourmet, small batch products.
A molasses based bbq sauce with just a touch of heat and the right amount of sweet. We add a splash of our award winning Hoff Sauce that kicks this smoky, tangy sauce to the next level. Smother it over your loaded potato or baste your next brisket with this as a finishing sauce. Hoff BBQ is an incredibly well balanced sauce that's handmade in Chattanooga, TN.
Naturally Gluten Free and Vegan
Heat Level: Lightweight
Ingredients: Tomatoes, Vinegar, Cane Sugar, Water, Molasses, Salt, Fresh Chiles, Garlic, Onion, Spices, and Smoke Flavor
Suggested Pairings: Brisket, Meatballs, BBQ Sandwiches, Sweet Potato Fries, Meatloaf, Pork & Beef Ribs